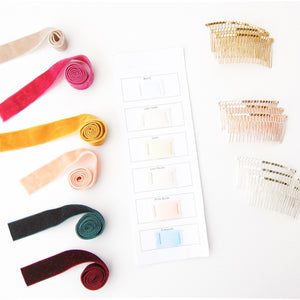 Lovestruck + Golden
Color Swatch Card
Regular price
$12.00
$0.00
Order the Lovestruck + Golden Swatch Card to ensure a perfect color-match before your veil purchase! Includes a $12 discount code, making your Swatch Card FREE!
Colors included:
White
Light Ivory
Ivory
Light Blush
Petal Blush
Cerulean 
CONTACT:
Email Megan at lovestruckandgolden@gmail.com for custom requests. 
ABOUT THE COMPANY:
L o v e s t r u c k + G o l d e n is a bridal accessories brand specializing in high quality, made-to-order wedding veils for the romantic, free-spirited bride. This product line is inspired by the iconic women who have left their mark on history with their fashion, intelligence, leadership, + creativity.